On February 6, 2013 OCZ is rolling out a FarCry® 3 gaming bundle for Vector SSD end users!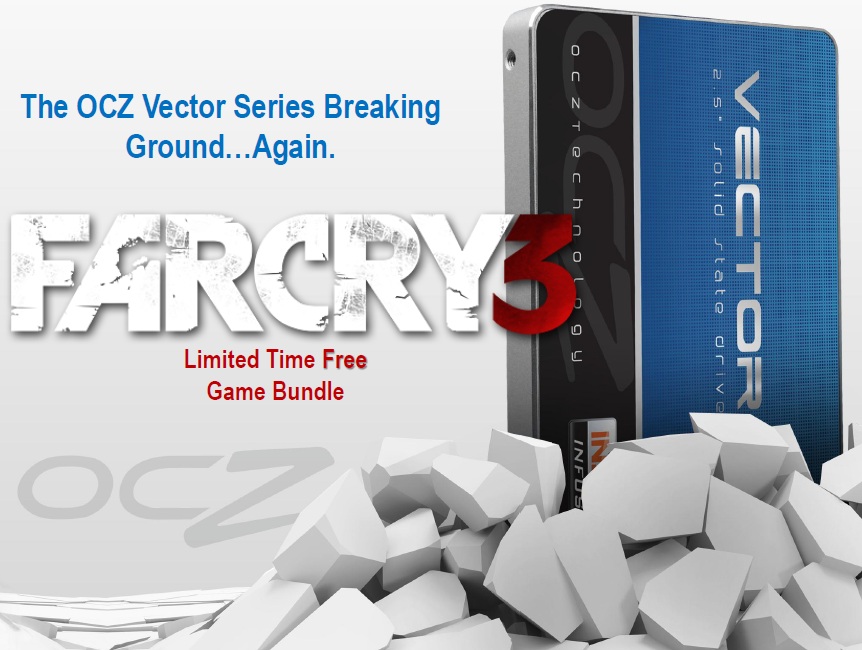 Since its release in November, Vector SSDs continue to earn countless praise and awards from around the world, outpacing leading solutions on the market. The proprietary Vector Series delivers an industry-leading solid-state storage solution for the high-end consumer, gamer, and workstation user.
•Blazing fast SATA 3.0 6Gb/s interface
•Sleek 7mm form factor
•128GB, 256GB, and 512GB models
•High performance and endurance
•Faster sustained speeds over time and better 'used' state performance
•Advanced suite of flash management to increase durability and reliability
•Leading 5-year warranty
What is FarCry 3?
•Released in December 2012
•Popular first-person PC game from Ubisoft
•Known for its exceptional game play, rich graphics, challenging missions, and compelling story
•Has gained recognition worldwide
This is an offer that's easy to take advantage of. Customers simply need to own or purchase a new 256GB or 512GB Vector SSD, and they are well on their way to ultimate gaming.
Only Vector Series 256GB and 512GB models are supported (the 128GB model is not supported)
•One free FarCry 3 download is available for up to two (2) Vector SSDs purchased
•FarCry 3 game software is recommended for use with Windows-based PCs
•End users must register their purchased Vector SSDs in order to redeem FarCry 3 software here: www.ocz.com/vector_farcry3
•Once approved, OCZ will email the URL and activation code to download FarCry 3 software directly to the customer using the email provided
•This promotion is valid in worldwide in all countries that the company does business in (US, APAC, SA, EMEA), with the exception of China
This promotion is run by OCZ directly and Expires July 14, 2013 unless removed earlier.
To purchase your new Vector SSD Click here!